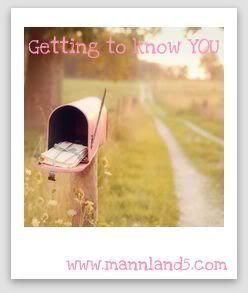 It's Sunday, which means it's time again for
Keely's
weekly blog carnival called Getting to Know You. Here are this week's questions...and my answers!
1. If you could host a Reality TV show, which one would it be? Well, I'd love to travel the world, so I think The Amazing Race would be fun!
2. Do you put your seatbelt on before or after you start the car? I turn on my car first to get the air going, then I put on my seat belt.
3. Shave or hair removal cream? Shave
4. What's your favorite feature in a house? Well, I live in kind of a cookie cutter subdivision home, but I adore older homes with quirky characteristics and built in features.
5. What is your favorite "Fall" scent? Pumpkin pie scented things
6. What tv show are you looking forward to seeing the most this Fall?? The Biggest Loser
7. Personal Shopper or Personal Chef? Um both! But I'll go with chef.
8. What is the first word that comes to mind when you think of "Fall"? Leaves. I absolutely adore Fall...the cooler weather, the crispness to the air...and the changing of the leaves. LOVE it.