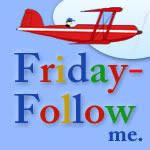 Friday Follow
has been re-worked and gotten a make-over! I'm so excited to see it back! This is the first week of the new Friday Follow...if you've never played along, click the graphic up above to see how!
This is a great week for us.... We started off with our trip to Duke for Shannon's recognition ceremony. Then, Tuesday was my last day of work until AUGUST! (Can I get a woohoo???) Shannon's last day of 7th grade is tomorrow! Here comes summer! I can't wait to stay up late, sleep in late, and laze by the pool. Bliss!
Patrick and I got new toys today...DROIDS! So awesome. Our phones were up for renewal, and then Droids went "Buy One Get One Free," with free shipping! It was just meant to be! We've spent the day learning about apps, chatting with friends, syncing our Google calendars, etc. Sweeeet! I feel so 21st century! LOL!!!
I have a doctor appointment Friday afternoon...hoping for good news. Cross your fingers for me!